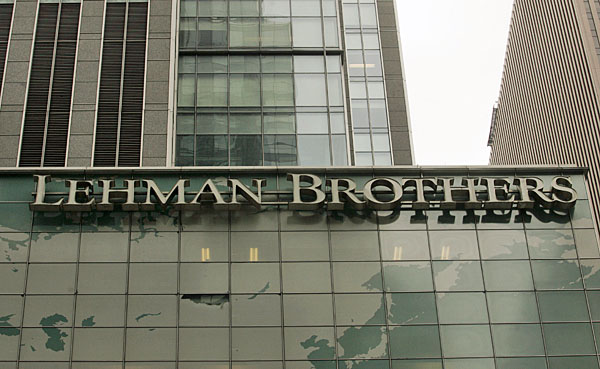 Is there any more disturbing site than watching employees cart their belongings in a cardboard box out of a failed company?
As I watched Lehman Brothers' employees leave the building over the weekend, it reminded me of that awful scene of stunned workers leaving
Enron
after it went belly up.
One of the most difficult aspects of a large employer failing is that you suddenly have thousands of people in the same boat -- and not everyone will do as well as others. Some will never regain their earning power, some will fall into depressions so deep it will take them years to re-enter the job market with any real enthusiasm and others will simply drift away to less-than-desirable careers.
The key for any employee who is suddenly out of a job with hundreds of co-workers is speed. At this point, you can't afford to sit back and bitch about how unfair the world is and the employer misled you about how serious were the problems. Because while you're moaning and groaning, others are scrapping for available jobs.
You need to:
* Make a game plan.
Write down what are your absolutes -- the things you must have in a job. If it's health insurance, living in a certain city, specific hours, etc., then you know not to waste time looking at jobs that don't meet those criteria.
* Rally the troops.
Get together with family and friends and let them know the situation. Brainstorm about people they know who might be able to help you submit a resume or get an interview. Remember: Most people still get jobs based on
who
they know.
* Contact a career coach or alumni association.
Many universities are already geared up to help those who have been hard hit on Wall Street. If you don't think you can afford a career coach, consider giving up some of the extras in your life (a gym membership, eating out, cable television, etc.) which can can help you pay for a coach.
* Don't immediately think "entrepreneur":
Times are tough right now, for everyone. Starting a business may be a dream, but it may be wiser to
put it on hold
until they economy brightens.
* Pride goeth before the fall:
Keep in mind that there are going to be potentially thousands of people looking for a job as this financial debacle unfolds, so you can't afford to let your
ego
get in the way of a potential job. Be realistic about what you can accept as a salary, and don't get caught up in a job title. Keep in mind that if you get a job offer, you can usually negotiate a bit on the salary and benefits.
* Be ready to get the hell out of Dodge.
I know people who live in New York City are passionate about the place. They can't -- and don't -- want to imagine living anywhere else. But the truth is that you may have to consider other cities if you want to land another job. And, even if you have kids, they can adapt to a
relocation
easier than they can to losing their home if you don't have a job.
And finally, if you find yourself out of work, remember to be good to yourself. Surround yourself with positive thinkers, take care of your body with proper nourishment and rest, and do whatever sustains your soul, whether it's yoga, gardening or attending religious services. Do not hesitate to ask for help from friends, family and colleagues. Most have been in -- or will someday be in -- your situation.
What other steps should someone take who has lost a job?

del.icio.us