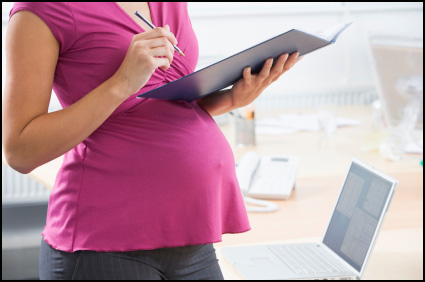 Having a baby is always an adjustment for new parents, but one strategic communications company found it was going to go through some adjustments of its own when three key employees on its 16-member staff turned up pregnant at nearly the same time.
After seven months of "adjusting, juggling and stretching" to accommodate three maternity leaves, "the truth is it wasn't bad after all," writes Jon Newman, co-founder of The Hodges Partnership, in a blog post titled
OOOhhh Baby…(Our three-peat feat)
.
"In fact, it was an extremely good thing, not only for the moms, but for all of us at Hodges," he wrote.
The change in routine was good for the company because everyone pitched in, learned to stretch their capabilities and skills and be more flexible with their work, Newman says in the post.
One of the moms who was pregnant and now has a 7-month-old baby is Stacey Brucia, an account manager. She says she was telecommuting from home when she heard about the second employee announcing her pregnancy.
"I'm glad no one could see my face because I knew then I was also pregnant," she says. "I knew then it was going to be a stretch (for the company) because it was going to be a revolving door of maternity leaves."
However, Brucia says she wasn't overly concerned because Hodges already had been supportive when she was the first woman in the company to take maternity leave four years previously when her first child was born.
Still, companies don't always have supportive atmospheres. Women often debate about when they should reveal their pregnancies and what will happen to their jobs while they are on maternity leave.
Cheree Aspelin, who writes the
Maternity Leave Coach blog
, says many women try to hide their pregnancies. She saw one woman wearing a heavy overcoat to work in July in Houston.
"Sweat was just pouring off her," Aspelin says. "She's trying to hide (read more
here
)