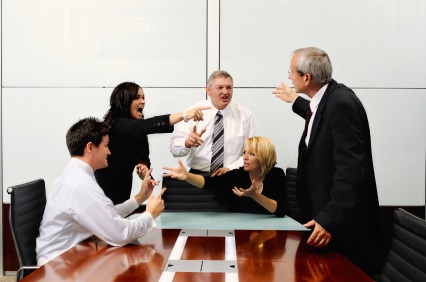 Many companies find that teams are important because the collective intelligence of the group can drive more innovative, creative and strategic results.
Unfortunately, sometimes a team's collective intelligence seems to go awry and instead leads to chaos, back-biting, failure and threats of bodily harm.
Such results are not desirable, of course, but that's what can happen when teams don't keep things simple. By
reducing complexity
, teams are better positioned to achieve desired results with greater efficiency (and less bloodshed).
Here are some ways that teams can reduce complexity:
Establish clear goals. Teams need to avoid the kitchen-sink approach of trying to be everything to everyone. Christopher Avery, author of "Teamwork is an Individual Skill," advocates that each team member must agree on the shared purpose of why the team exists and what it wants to accomplish. "When groups pursue a direction determined by majority or authority, those who dissent (either vocally or silently) can lose energy," he says. He suggests asking, "How can we change this proposal so that it works for you?" as a way to reach a clear goal that gets the buy-in of everyone.
Jon R. Katzenbach and Douglas K. Smith have written about what makes good teams work, and they note in the Harvard Business Review that the best operating teams "also translate their common purpose into specific performance goals, such as reducing the reject rate from suppliers by 50% or increasing the math scores of graduates from 40% to 95%."
Get rid of a wish list. If it's key, keep it. If not, get rid of it. Having too many things on a team's plate can be demoralizing when all the objectives can't be achieved.
Don't make assumptions. Just because a team worked well one time in one situation does not mean that team will be similarly successful the (read more here)