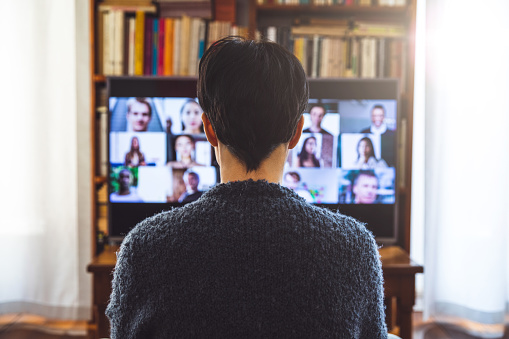 When we first started using Zoom meetings, it was a learning curve for many. It was often funny -- the cat who constantly walked in front of a co-worker's computer screen or the pants-less spouse who ran by in the background.
But Zoom has become a daily fact of life for most of us, and a lot of these "funny" or "odd" or "embarrassing" incidents have lost their charm. Colleagues no longer want to look at your cat or hear your kid's TV program blaring in the background. They don't want to see you looking like you were dragged through a hedge backwards.
It's time to accept that Zoom meetings are here to stay, and it's time to conduct yourself just as you would in any professional situation. Here are some things to think about:
1. Prepare yourself.
Don't show up to a Zoom meeting after just working out or just waking up. Would you walk into a conference room dressed in ratty sweat pants or with your hair sticking up in five different directions? You've had plenty of time to adjust to working at home and starting to dress like a grown-up. Doing otherwise signals to your boss and your colleagues that you're not taking them or your job seriously. (And don't think you can get by with using an avatar -- everyone is expected to show their actual face by now.)
2. Improve your environment.
It's been interesting to see pieces of various homes while on Zoom. But it's no longer interesting to see your dirty dishes, your unmade bed or your dying plant. Many people associate a messy desk with a disorganized person, so don't send that message from your home. You may have a limited space to work, but take the time to convey your professional approach to your job -- or others may think you're just waiting to crawl back into that unmade bed as soon as the call is over.
3. Use your manners.
Showing up late, slouching in your seat, messing with your phone and not being prepared for the issues to be discussed are all bad form during a meeting, and that includes those conducted via Zoom. Make sure you're speaking clearly, smiling when appropriate and sending a 'I'm-here-and-I'm-ready" visual vibe to others. Anything less than that is rude and unprofessional.
While many of us are working from home, our face-to-face contact with colleagues and bosses is limited. If you're not making the best impression possible during Zoom calls, you're seriously undermining your career because that visual interaction will provide a lasting -- and unimpressive -- memory for others.